St. Patrick's Day in the United States
St Patrick's Day, on March 17, remembers one of Ireland's patron saints, St Patrick. It largely celebrates Irish-American culture in the United States.
Is St. Patrick's Day a Public Holiday?
Although St. Patrick's Day is not a public holiday, businesses and schools may be closed because it falls on the same date as Evacuation Day in 2022, which is a public holiday in Massachusetts.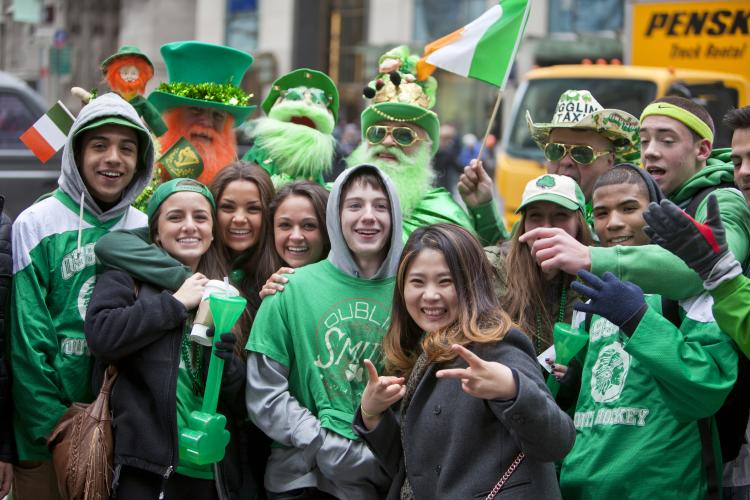 The annual St. Patrick's Day Parade on Fifth Avenue in New York City.
©bigstockphoto.com/Stu99
Celebrate St Patrick's Day
Celebrations concentrate on Irish themed parties, drinks and food. Many people get into the spirit by dressing in green clothing and eating green colored food. Irish clubs and pubs often hold parties or have special deals. Large street parades mark St Patrick's Day in places like:
Savannah
Chicago
Boston
Houston
Philadelphia
Pittsburgh
Denver
Detroit
Toronto
New York
New Orleans
Seattle
Water is dyed green in public places in some towns. The most notable body of water that was dyed green was the Chicago River in 2005.
What's Open or Closed?
St Patrick's Day is not a federal holiday in the United States. Schools, businesses and organizations are open as usual. Public transport systems run on their regular schedules. There may be some local disruption to traffic due to St Patrick's Day parades. This is particularly true in cities with a large Irish-American population, including New York, New Orleans and Seattle. The parades may be on or around March 17, so it is a good idea to check local sources for the exact location, date and time.
About St Patrick's Day
St Patrick is one of Ireland's patron saints and many Americans with Irish ancestry remember him on March 17. Patrick's Day is fixed on March 17, but may occasionally be moved by Catholic Church authorities. This happened in 1940, so that the celebrations would not fall on Palm Sunday, and in 2008 to avoid Holy Monday, the last Monday before Easter Sunday.
Symbols
The most common St Patrick's Day symbol is the shamrock. The shamrock is the leaf of the clover plant and a symbol of the Holy Trinity. Other symbols include:
Almost anything green.
The green, orange and white flag of the Republic of Ireland.
Brands of beer associated with Irish culture.
Religious symbols include snakes and serpents. Other symbols seen on St Patrick's Day include the harp, which was used in Ireland for centuries, as well as the leprechaun and a pot of gold that it hides.
About St. Patrick's Day in Other Countries
Read more about
St. Patrick's Day
.
St. Patrick's Day Observances
Showing: 1777–17991800–18491850–18991900–19491950–19992000–20152016–20262027–20492050–20992100–21492150–21992200–22492250–22992300–23492350–23992400–24492450–24992500–25492550–25992600–26492650–26992700–27492750–27992800–28492850–28992900–29492950–29993000–30493050–30993100–31493150–31993200–32493250–32993300–33493350–33993400–34493450–34993500–35493550–35993600–36493650–36993700–37493750–37993800–38493850–38993900–3949
While we diligently research and update our holiday dates, some of the information in the table above may be preliminary. If you find an error, please let us know.
---
St. Patrick's Day in the United States